How important is the first impression while you attend a business meeting?
Very much.
First of all we meet a person who starts looking at us and unconsciously he/she creates in his mind a certain image of us.
Appearance does not explain who we are but if we annoy our interlocutor from the very beginning it will be more difficult to recover credibility in his eyes.
Thus the question is : "What do we have to wear in order to conquer the people in front of us?
The Latins said : "The right is always in the middle" so if we stay sober and elegant we never make mistakes.
Excess both in the extravagance and in ostentatious formality, does not offer a good impression of us because in one case it might not find the taste of our interlocutor and in the other, it could be perceived as detachment.
MAN
Once again, the context has to be carefully considered, but if we think of men's
clothing, an elegant jacket and a tie always saves appearances and denotes
elegance and sportiness.
Thus we suggest you a dark blue cotton jacket with a personalized inner lining
and a medium gray trousers with a classic but skinny fitting cut; a blue and white
striped shirt and a blue tie with a sober pattern. The perfect shoe is a simple and
rigorous lace-up or alternatively a smooth leather penny loafer. If we want to
give a more personal and exclusive touch, we can also consider the option with
tassels. Sole is obviously in leather and in place of a rigorous black ( suggested
for a more formal event), we can instead consider a dark purple variant both for
a day or an evening meeting.
WOMAN
If jacket and tie are the perfect work uniform for men, the teilleur represent the same for women.
An elegant man usually has few colours to choose and match while woman does have much more choices but in any case, if you don't want to go wrong, a black or dark blue teilleur combined with cigarette pants is a timeless must.
Under the jacket, a blouse or a silk undershirt (not too low-cut ) offers a refined contrast. If the work appointment is before 6 pm we can also evaluate an ice gray teillur. The perfect shoes in both cases are pointed brogues in black shiny leather with contrasting leather sole. A black and cream loafer can be a sophisticated variant, especially if the cream colour of the shoe matches with the colour of the blouse.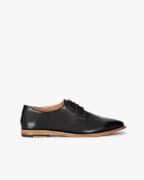 https://www.seboys.it/wp-content/uploads/2019/03/businessmeetingENG.jpg
1355
1000
marta
https://www.seboys.it/wp-content/uploads/2020/03/seboys-logo-1.png
marta
2019-03-15 13:15:47
2019-03-19 16:59:17
Short Guide for the perfect Business meeting outfit